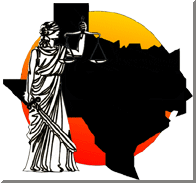 "Experience hath shewn that even under the best forms (of government)
those entrusted with power have, in time and by slow operations, perverted it into tyranny..."

-Thomas Jefferson
***For information about the impactful new federal litigation that might very well dissolve the Texas Bar, please visit here.
PREVIOUSLY:
*Have you seen how many employees at the State Bar of Texas receive six figure annual salaries? (Data.)
*Did you know that the State Bar of Texas' former membership director fairly recently pleaded guilty to felony theft for misappropriating around half a million dollars of Bar funds? This ongoing crime transpired for nearly a decade before some other Bar leader finally stopped pretending not to notice. Details.
*Might you be interested in seeing our reform proposals regarding the Texas Bar?

*Here's the Texas Sunset Advisory Commission's page dedicated to the State Bar of Texas:

https://www.sunset.texas.gov/reviews-and-reports/agencies/state-bar-texas

*Here is our Bar reform-oriented submission in response to that commission's Sunset review of the Texas Bar. Questions?

*Did you know that nearly half of U.S. states do not even have mandatory membership "unified" state bar associations? 

http://lawyerist.com/bar-associations-failing-lawyers/

"There are 33 mandatory state bar associations and 20 voluntary state bars."
Here's an alternative source for somewhat similar information: ABA Division for Bar Services.

*There are some potentially interesting comparisons regarding different states' attorney regulation practices & rules here.

*How much does the State Bar of Texas receive in revenues each year? Are you ready for this?
https://www.texasbar.com/Content/NavigationMenu/AboutUs/OurFinances/Proposed2018_2019.pdf
2017-2018:

https://www.texasbar.com/AM/Template.cfm?Section=Table_of_Contents&Template=/CM/ContentDisplay.cfm&ContentID=35932

2016-2017:

https://www.texasbar.com/AM/Template.cfm?Section=Table_of_contents&Template=/CM/ContentDisplay.cfm&ContentID=32723

2015-2016:
https://www.texasbar.com/AM/Template.cfm?Section=Past_Issues&Template=/CM/ContentDisplay.cfm&ContentID=28072

For the most recent Texas Bar financial report, please click here.

*Why does the Texas Bar charge (increasingly) for advertising reviews, and continuing legal education (CLE)? State bars such as Virginia's do not charge anything at all for the ad reviews, despite charging lower annual bar dues. Virginia's mandatory membership state bar also sells comparatively little CLE. By the way, does it not represent a conflict of interest for the Texas Bar to profit so much from educating about attorney ethics while simultaneously issuing disciplinary rules, interpreting and selectively enforcing them, and even restricting who can offer competing CLE courses and under which circumstances?


*Why not simply let attorney / client relations be controlled by independently existing laws of contract, Deceptive Trade Practices Acts (DTPA) and fiduciary duties? Specific codes of conduct could be selected and embraced, or otherwise excluded as attorneys and clients see fit.




Relevant Facebook pages:
*Texas Bar Sunset.COM

*State Bar of Texas Sunset Discussion Group

*Hold the Office of the Chief Disciplinary Counsel Accountable / website: OCDC-Revealed.com

*Make the State Bar of Texas Relevant
*State of Texas Sunset Review Commission


This website is a work in progress. Thank you for your patience.

Would you like to contact us?